For businesses that rely on local customers, marketing used to mean putting an advert in a shop window or local newspaper, or maybe handing out flyers. Now, local online marketing has really come into its own and provides businesses with a whole host of different tactics to get in front of new customers.
But, to really get the most out of local online marketing, businesses need to make sure they're doing it right and not just wasting time and effort. Here are our Top Tips on How to Really Succeed in Local Online Marketing.
Have a plan and stick to it
This should be obvious, but unfortunately it's a crucial step that many businesses forget. If your marketing isn't planned out it becomes almost impossible to track and measure any improvements, or lack of improvements that you make.
If you have no previous experience of putting a marketing plan together then take some time to do a bit of research, dull as it may seem it is a far better use of your time than going in blind! A basic local online marketing plan could start off by listing your business goals, then breaking down how you intend to achieve them.
For example, do you want to increase revenue by 10% across the quarter? How do you intend to get there? Will you employ an additional sales person, or will you sell higher value products? How will you get that message across to potential customers?
2. Invest in a Mobile Friendly website.
40% Of Mobile Searches Have Local Intent (Source: Google: Creating Moments that Matter)
In October 2016, mobile internet web usage took over desktop (Source: Telegraph)
Google says 61% of users are unlikely to return to a mobile site they had trouble accessing and 40% will visit a competitor's site instead. (Source: MicKinsey & Company)
With Statistics like these it's pretty obvious that you need your website to be mobile ready! People who are searching from their mobile are likely to be out and about, looking for what they need at that moment. If your website can't be opened from their phone because it uses flash, or because there is too much to load then you could be missing out on valuable business leads every day.
3. Make Sure Your Campaigns Are Geo-Targeted.
If you want to attract customers within a specific local area, then it's no good aiming your adverts far and wide where people from anywhere in the world can see them but can't take action!
Sites such as Facebook and Google Adwords and other Display Ad networks, allow you to target ads using a geo-location feature, meaning your adverts will only be seen by people in the locations that you specify.
Think about how far people are likely to travel for your service and then target those areas to find your new customers.
Research conducted by Bright Local conducted a survey asking respondents how far they would drive to for 13 different local services. The results are below.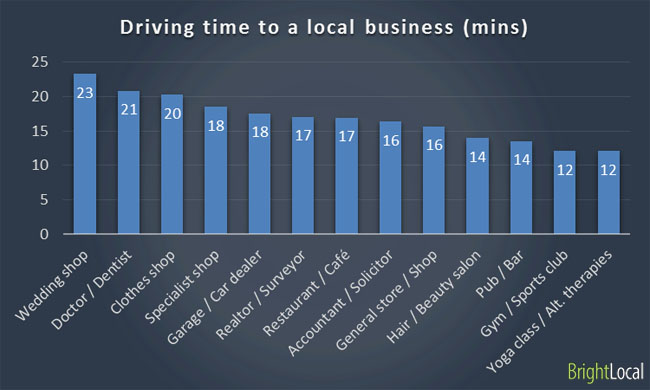 Interestingly people are willing to travel for 5 minutes longer to visit a Dentist/Doctor than they would a Solicitor or an Accountant.
Alarmingly people are willing to travel an extra 2 minutes to go to a Pub then to a Gym. What does that say?
Make sure that your location is obvious to anyone who might be searching your kind of service within your area. Don't leave this information confined to the contact us page. Include your location details on every page of your site so Search engines recognise it and more importantly potential customers know exactly where you are.
4. Engage with Customers Online.
When you've spent a lot of time building up your local online marketing you also need to be seen as a real human presence, not just a marketing machine. This means you need to take some time to engage with your customers, respond to comments they leave on your website, have conversations via Twitter, and thank people for their feedback.
Social Proof is now all important, and online comments and actions that remain searchable and in the public domain are often viewed as being just as important as recommendations from Friends and Family.
Don't undermine your own marketing efforts by forgetting to be a real person!
5. Be Top of the Search Engines
Basic SEO strategies can help generate sales and customers so it's vital to get it right. If the search engines recognise your site as being filled with valuable information on a subject then it also helps your credibility with customers.
Being at or near the top of search engine rankings will ensure you get the best of the search engine traffic coming to your site on a regular basis.
It's not just SEO that gets you to the top of the Search Engines. Tools such as Google My Business also help, along with Videos, Images, reviews and a strong social media presence.
6. Get 5 Star Online Reviews
Local search user reviews help build new customer trust. If a person isn't acquainted with your business, they're going to want to get an idea that other people, past customers, are happy with the work or service you have provided before spending their money with you.
If they do not know anyone whom they can ask about your services they turn to online user reviews to get a feel for how you operate.
90% of consumers read 10 reviews or less before they feel that they can trust a business (Source: BrightLocal)
Therefore it is imperative that you have in place a system to get clients to leave their positive feedback online.
Local Online Marketing is not complicated but with increased competition for people's attention, time and money it is vitally important to have a plan and continuously act on it to build a stream of new customers.